Early voting takes place from October 24 through November 1.
To find your assigned early voting site and hours, use findmypollsite.vote.nyc.

Voters can also call 

1-866-VOTE-NYC (1-866-868-3692)

.

Seniors and those with disabilities will go to the front in line.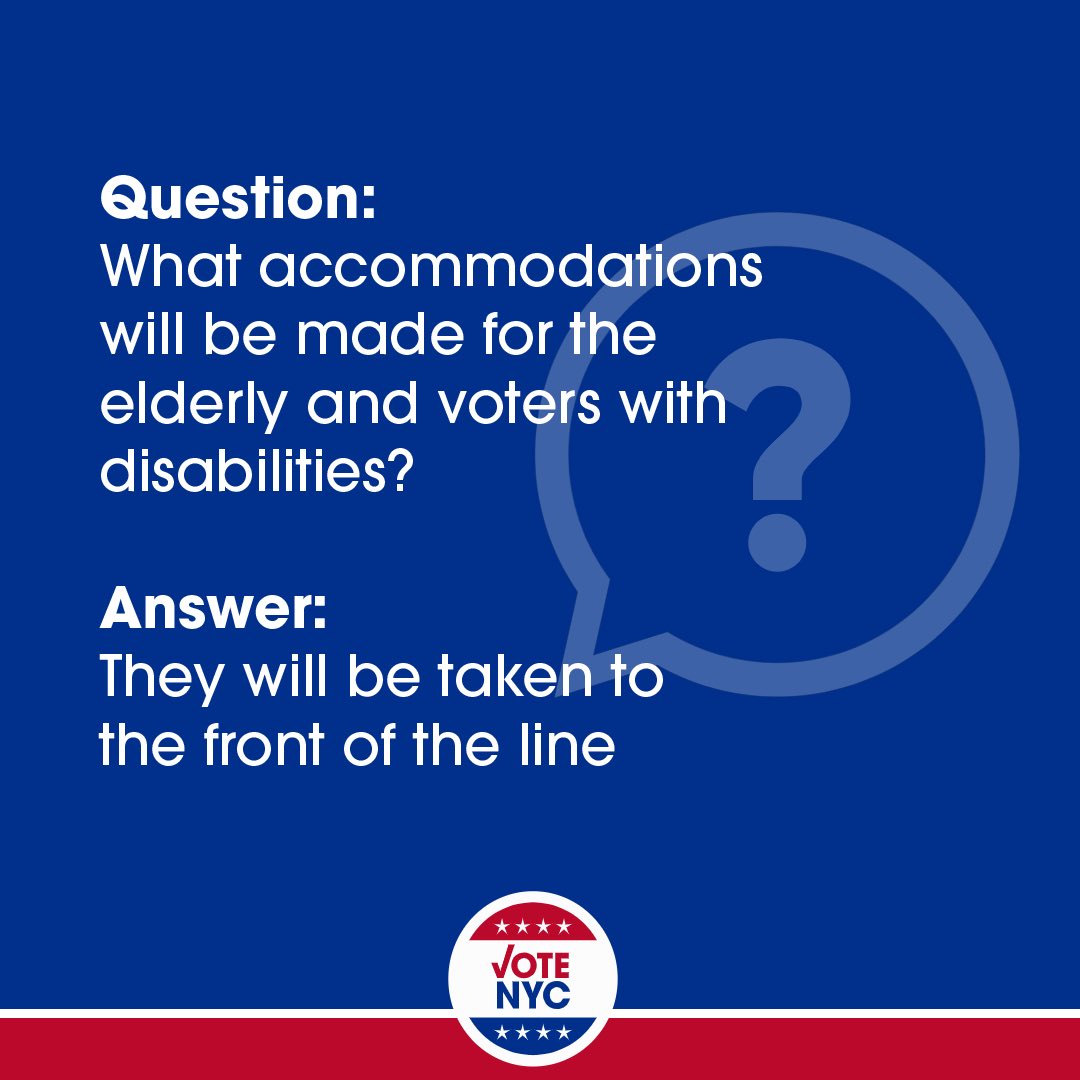 Vote on Election Day
On Election Day (November 3rd), polls will be open from 6:00AM through 9:00PM at your designated polling location. 
Visit findmypollsite.vote.nyc to find your poll site and view your sample ballot.
Voter Safety
Poll worker and voter safety is important to us!! We have the following measures in place:
 Fast pass card for contactless check in.

Floor markers to help maintain social distancing.

Antiviral wipes will be available to use as needed.

Individual stylus/pen for voters to check in on poll pads and mark their ballot, which voters can keep.

Voting machines will be cleaned regularly with antiseptic wipes.

Masks will be provided to voters who need one. Poll workers are required to wear BOE-provided masks. 

All Early Voting sites will be professionally sanitized after close of polls.
Absentee Voting
You can apply for an absentee ballot by: 

Visiting 

www.nycabsentee.com

. The applications are available in English, Spanish, Chinese, Korean, and Bengali.

Email application to 

[email protected]

Fax application to 212-487-5349.

Print a copy 

online

 and mail application to your borough BOE office.

Voters who are visually impaired or otherwise disabled and that such disability prevents such person from being able to independently cast a paper absentee ballot can apply for an accessible absentee ballot here:





Accessible Absentee Application

 

Please submit the completed Accessible Absentee Application to the appropriate Borough email:

There will also be Ballot Marking Device (BMD) at each borough office and every poll site on Election Day and throughout Early Voting for voters to use to mark their ballot if they prefer.
Applications must be postmarked by October 27 or delivered in-person at a local BOE office by November 2nd.
Absentee Ballots
Make sure to sign & date your oath envelope.




 
Absentee ballots must be postmarked or dropped off in a secure ballot box at a Board of Elections office or any early voting site, or Election Day site by November 3rd.

For locations and hours visit Here
  Your browser does not support the video tag.